THE ULTIMATE VEHICLE STORAGE SYSTEM
discover how the AutoPark Cube can maximize the future of your dealership
MERCHANDISING + MARKETING
What is the AutoPark Cube?
AutoPark Cube is a revolution in cost efficient high density vehicle storage. This advanced parking solution is designed to maximize existing space and dramatically increase profitabilty.
Significantly reduce the amount of land allocated to surface parking while increasing the amount of land available for other, more profitable revenue streams.
Provide enclosed, secure storage for inventory while maximizing merchandising.
Enable dealerships to combine locations to eliminate duplication of services and reduce operating costs.
Improve dealership operations and significantly increase profitability
APPROXIMATELY $11,000 PER SPACE Estimated Cost (Steel Construction… Excludes Land).
Highest storage density of any conventional, mechanical or automated system (42 surface spaces = 90@15ft, 180@30ft, 270@45ft & 360@60ft).
Unlike a conventional structure, cars are all
stored indoors and away from elements, less
damage, less cleaning, better security
ANY LOCATION
Because of its potential small footprint, the structure can go where there is no option for a conventional structure. Could even go on top of existing building if structure allows.
ANY SHAPE
Building can be designed to almost any shape devisable by standard parking geometry (length, width & height). Height can reach up to 60ft without having to use passenger rated car elevators.
MAXIMIZING space efficiency
increases ROI
Commercial real estate in prime high density urban locations is expensive. Space must be used creatively and efficiently to maximize returns.
Efficient use of vertical space demonstrates visionary retailing and will change customers' perceptions of your business.
Capitalize on existing area by converting air to usable space in a dramatic vertical display.
Liberate parcels of land for expanding high yield bankable options such as additional service bays or auto spa areas.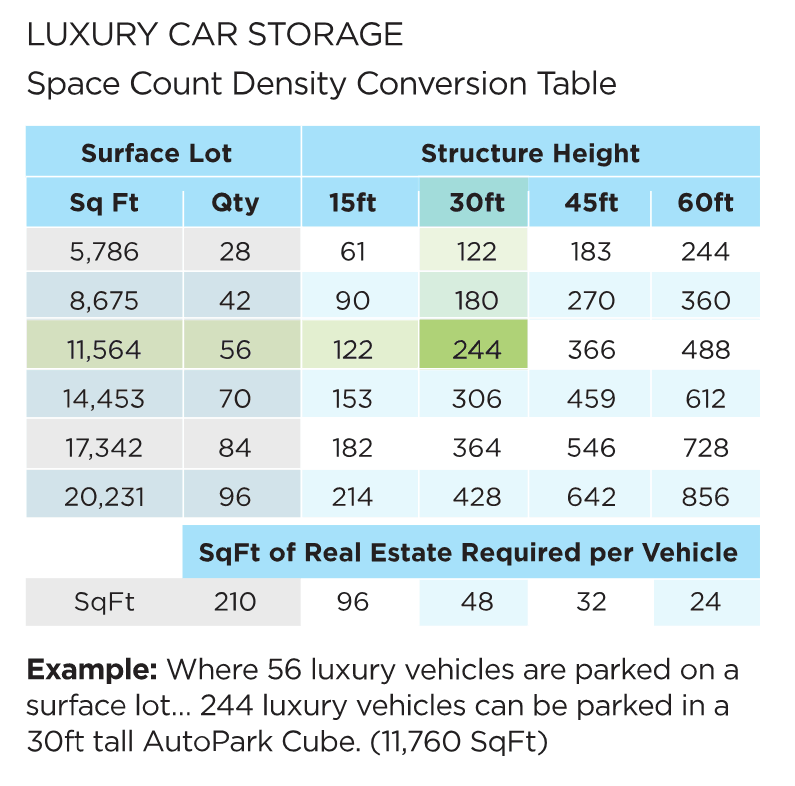 ANY EXTERIOR
All the exterior options of a metal building apply.


SHARED STRUCTURE
Metal Building with 13ft –15ft floor to floor (all vertical steel is shared).
EXPANDABLE
If properly designed, the system can be built in phases and can be added to easily.


MOVEABLE
Structure can be relocated if needed.
maximize operational efficiency with autopark cube and transform dealerships into thriving profit centers
Dealerships operating under progressive business models will find an ideal fit in the benefits of autopark cube systems. Improvements in operational efficiency result in lean retailing.
Create cost savings by implementing leaner operating strategies.
Improve the vehicle delivery process as sales personnel, customers, porters
and technicians have direct access to the vehicles on the primary lot.
Decrease the number of porters required to operate automated
systems which translates into immediate cost savings.
Climate Controlled
Unlike a conventional structure, cars are all stored indoors and away from elements, less damage, less cleaning, better security
Vehicles being displaced can be parked in upper levels to allow the following
Additonal Modules:
Receiving & Delivery
Customer Lobby
Car Wash
Detail Center
Make Ready Center
Tire Changing
Revenue Generation
Add'l Service Bays
Misc. Work Stations
Customer Storage
Collector Storage
($275-$700 per month)
The AutoPark Cube streamlines the inventory management process while boosting ROI.
Inventory management can be simplified through intelligent, vertical parking systems.
Provide easy, high-tech access to existing inventory.
Protect valuable inventory and safeguard against exposure to the elements.
Inventory and number of parking spaces can be increased quickly and effectively, without long-term construction.
Streamline the receipt and delivery of inventory.
Faster access to vehicles maximizes productivity and increases profitability.
Efficient inventory delivery and retrieval system requires less staffing.
Insurance costs and liabilites related to exposure, accidents, vandalism and theft are reduced as inventory is managed in a secure environment. 
Fewer vehicle movements means less wear and tear.
Meet and exceed customer expectations while increasing your profile with the AutoPark Cube.
Offering quicker vehicle delivery in an innovative, secure indoor space boosts customer service index and makes a bold statement in the market.
Customer wait times are reduced with faster, more efficient vehicle
delivery in secure environment.
Enclosed storage area maintains vehicle integrity while showcasing inventory.
Dramatic vertical display incorporates innovative thinking, adds value to the community and promotes sustainability with less pavement and emissions.
Vertical parking can be added to current property without business disruption or relocation. Customers continue to patronize the location where they are comfortable.
Indoor storage means vehicles that have already been serviced will be returned to the customer in prime condition.
Fast Retrieval Times
Cars can be retrieved much more quickly. A large percentage of cars do not require the movement of another to retrieve.
Unique dealership appearance
can increase market visibility by becoming a three-dimensional billboard in areas where exterior signage is heavily restricted.
Smart dealerships invest in the AutoPark Cube to capture immediate financial benefits
Now is the time for aggressive growth as the auto industry experiences a rebirth. Leverage this innovative technology to position yourself as a leader in the industry's next generation.
FINANCE ROI
Depreciate over 7 years
Reduce property taxes
Use increased revenue and cost savings
for more profitable activities
REAL ESTATE ROI
Expand current locations without buying
more real estate
Utilize prime locations previously considered
too small
Sell or develop newly created surplus
outparcels
OPERATIONS ROI
Lower cost of rent, utilities, security and
lot maintenance
Greatly reduce porter expense
Reduce costs, mileage and wear
FACILITIES ROI
Increase parking without closing for
construction
Park the same number of cars in a fraction of the space
Expand in a few months vs. a few years
MARKETING ROI
Systems can be built with windows to
showcase inventory
Dramatic vertical structures draw attention,
adding value to the brand
Accurate assessment and parking plan
On-Site Assessment & Needs Analysis (One-on-one consultation)
Prepare Layout and Volume Analysis
Present Volume Analysis and Preliminary Budget
Prepare detailed Site, Building and Equipment Drawings
Provide CAD drawings, engineered drawings and load calculation
Review details with client and make modifications
Prepare detailed fabrication documents
Fabricate Structure and Equipment
Delivery
Installation
Cost Efficient High Density Vehicle Storage
Now is the perfect time to start saving money with AutoPark Cube
Progressive dealerships are hungry for solutions to resolve capacity issues that will enhance existing facilites and increase profits. Partnering with AutoPark will take your business to the next level.
TO FURTHER EXPLORE WHY YOU NEED AUTOPARK CUBE NOW call AutoPark 704.365.3544, or email info@autoparkinc.com
Visit our automotive dealership website to discover more about AutoPark and our unique vision for a dynamic future in parking solutions. www.autoparkcube.com